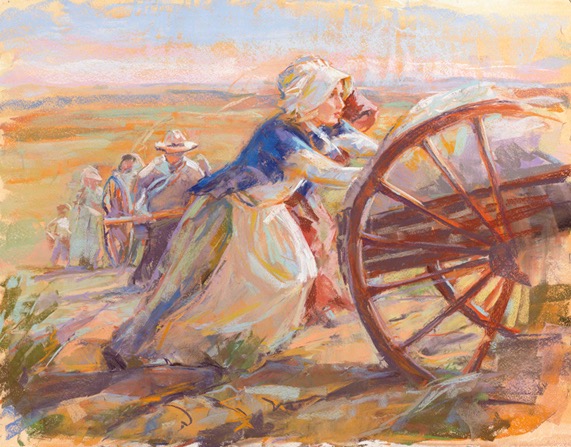 Over the course of 2015 the work of Ordain Women has been guided by the theme "Honoring Our Past, Envisioning Our Future." I will admit that my reaction to this theme when first approved was a resounding meh. I'm the granddaughter of a legitimate Daughter of Utah Pioneers; my not-so-distant progenitors crossed the plains, some of them dying; and my grandfather's grandfather went to jail for practicing polygamy post-Manifesto. Even so, I don't care much for Pioneer Day and I certainly don't want to go on my stake's Trek next year. I'm just not that big into the Utah-centric pioneer worship we tend toward. And though I have been known to speak dismissively of my bonnet-bearing foremothers, I cannot imagine a more hopeful act, grounded in the future than leaving the comfort of home to follow God. The lyrics of Come, Come Ye Saints are all about the future:
We'll find the place which God for us prepared,
Far away in the West,
Where none shall come to hurt or make afraid;
There the Saints will be blessed.
We'll make the air with music ring,
Shout praises to our God and King;
Above the rest these words we'll tell—
All is well! All is well!
Can't you see their faces, shining bright with hope, as they sang those words? These women of my past gave their every thing to bring about our future—whether in Utah or Uganda or Ukraine—their vision and bravery made this church possible.
Thankfully, my raging apathy toward the past cannot compare to my absolute belief in the power of the future. And that belief is probably one of the things I love most about my Mormon faith. I find the 9th Article of Faith to be some of the most hopeful words ever written: "We believe all that God has revealed, all that He does now reveal, and we believe that He will yet reveal many great and important things pertaining to the Kingdom of God." We are a people constantly looking forward to the next parting of the veil, the next glimpse of the finger of God, the next revelation. Granted, it's been a while, but I am not without hope, and I believe that Ordain Women is part of that next moment.
As I look back on the year that we have focused on our past, I find myself grateful for those pioneers. Their example has inspired me to do hard things and to act with conviction. As we prepare for our next public action, I believe we are accepting the challenge from President Gordon B. Hinckley to agitate faithfully for women's ordination. Ordain Women supporters will be publicly reenacting important events in the history of Mormon women. We will present the true stories of traditional pioneer women who blessed and anointed each other; we will tell the tale of women and girls who, when World War II ravaged their country, blessed and passed the sacrament of Jesus Christ to their congregations; and we will try to recreate the emotion and euphoria of the moment our sisters of color learned that the blessings of the priesthood and the temple would no longer be withheld. We will then invite women of today to express their hope for the future both in words and by hanging a symbolic key. This will be a beautiful opportunity to connect the work and wisdom of our foremothers to the future we envision. I invite all to join us!
Honoring our past,
Envisioning our future.
---
Debra Jenson, the author of this post, is Ordain Women's Executive Chair and the Chair of the Communications Committee.