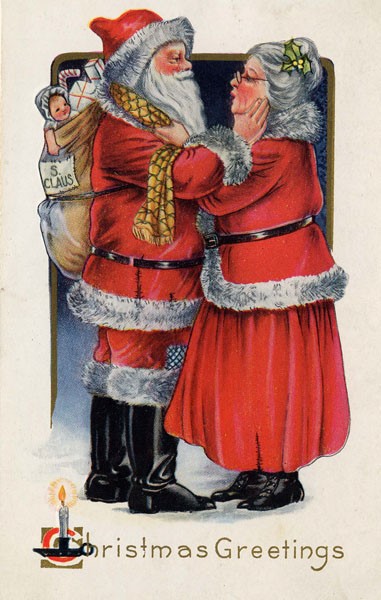 I don't know what happened in your family on New Year's Eve, but in the traditional family where I grew up—and, subsequently, in my feminist family—Mrs., later Ms., Claus visited while we slept. She left treats, little presents and the slightly-used paper New Year's Eve hats and horns of revelers. In other words, she had a role and an identity that was similar to Santa's. My mother's family of origin was Norwegian and Danish. Was this some sort of local Scandinavian thing, or was there a crypto feminist among my Norwegian/Danish ancestors?
"It's almost like Mrs. Claus is a metaphor for something, but I can't put my finger on it," teased Mormon muser Jacob Baker in a recent post on his Facebook page. "We don't know her name. Her entire public identity is subsumed in her relation to her husband. The little we have heard about her is vague and inconsistent, legend within folklore within myth. … if traditional and historic views continue to model our understanding, … [they might] lead us to defend her eternal anonymity as possibly the most important thing about her, lest she become symbolically maligned and desecrated, as with Santa's name among naughty children …"
When you're raised believing in a Ms. Claus with an equally active, powerful and engaged identity, how could you possibly think she couldn't handle a naughty child or two, let alone, like Santa, everything from the mundane to the miraculous?
Spoiler Alert: Not to complicate the metaphor, but in our family, Santa and Ms. Claus brought gifts whether or not we were naughty. They were freely given, no strings attached, unconditional. We knew it pleased them when we were nice—i.e., kind, forgiving, honest, loving. Eventually—perhaps because the gift-giving wasn't contingent—we learned that it pleased us too.