Ordain Women is hosting a weeklong celebration of women's history in recognition of this years theme, "Honoring our past, envisioning our future." Each day this week we will be sharing a new post highlighting stories of women from all over the world, submitted by you. If you would like to share women's history from your area, you can send your submission to: ordainmormonwomen@gmail.com. This post is one installment in this series.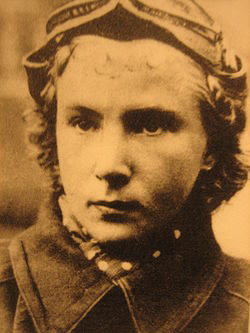 The moment I realized being female meant no limits:
Growing up my first career goal was fighter pilot. Instead of saying girls don't do that honey, my mom told me about Lydia Litvyak. More properly, Lieutenant Flight Commander Litvyak, a fighter ace who tested her mettle against some of the best-trained, battle-hardened, and highest-scoring Nazi fighter pilots to ever strap themselves into a cockpit in the battle of Stalingrad.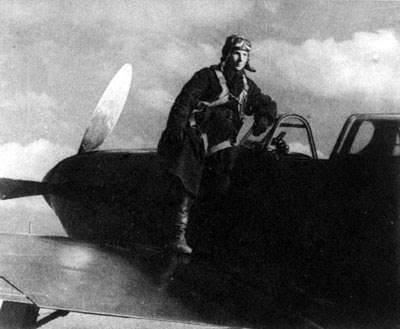 A pilot at 15, when Hitler invaded Russia in 1941, she was standing outside the military recruiting office looking to fly combat missions for the Soviet Air Force. The guy behind the counter told her that she wasn't eligible because she hadn't logged over 1,000 hours of flight time in her short, five-year career as a pilot, so she thanked the guy, walked up the street to the next recruiting office, filled out her paperwork, and put "1,000" in the box asking how many hours of flight time she'd logged in her career. Next thing you know, she was assigned to a men's squadron, where she took her Yak-1 fighter into battle against a sea of German warplanes in the skies above the raging battle of Stalingrad. It only took Lydia Litvyak two combat missions to score her first kill, shooting down a German Junkers Ju-88 bomber and becoming the first woman in military history to ever score a solo aerial victory in combat. About ten minutes later she became the first woman in military history to score two aerial victories, when she out dueled an eleven-kill fighter ace and a recipient of the Iron Cross.
For the next year, the White Rose of Stalingrad ignited enemy fuselages up and down the Eastern Front racking up 12 solo and 4 assisted kills to become the highest scoring female ace ever.
Career goals change but I knew from that moment being a women would never be a reason not to do anything and that everything was possible.
This post was submitted by Julie Mills who lives in Wisconsin.