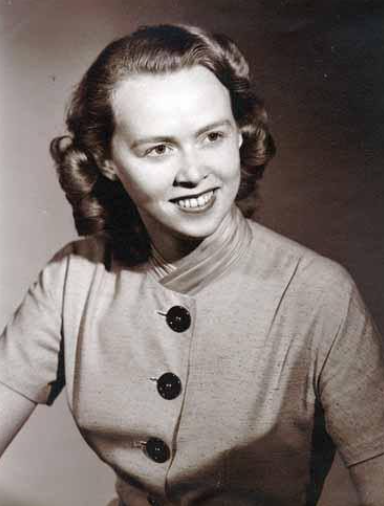 Before the term "Mormon Feminist" was coined, my mother, Elva Marchant Barnes, and my grandmother, Beatrice Peterson Marchant, were Mormon Feminists. I wish I could say that I always appreciated this fact, but in my younger years I felt pressure to conform, and every now and then felt embarrassed when I heard criticism of my mother and grandmother's political activities. Despite these momentary lapses, most of the time they were my heroes. They were strong, smart, independent, and knew their own self-worth.
In the 1960s, my mother was politically active advocating for the passage of consumer protection laws and the elimination of the margarine tax in Utah. In 1968, my grandmother won election to a seat in the Utah House of Representatives, where she served for four years. During the 1970s and early 1980s, they both actively fought for ratification of the Equal Rights Amendment. To this end, my grandmother founded and served as president of the Equal Rights Coalition of Utah.
On this Mother's Day, I would like to share a few memories these two strong women, who are at my core of who I am. They are why I am proud to be a feminist.
It's a Sunday morning in August 1965. I am a six-year-old sitting in Sunday School class. My mother appears at my classroom door, and calls me out of class. We quickly find my brother and my father. We walk quickly to the car. I can see pain and anger in my mother's face, as my parents put my little brother and me in the car. As my father drives out of the church parking lot, my mother begins to speak. She is never going back she says. She says something about the bishop and her underwear. She says something about men and power, and how women are left out. That was the last week that we regularly attended church as a family, although my brother and I attended in later years. Only when I was older, did I learn the full story.
My aunt was getting married in the Salt Lake Temple the next month. My mother scheduled a temple recommend interview with the bishop. During the course of the interview, he began asking detailed, intimate question, which she felt were inappropriate. She summoned the courage to tell him that she would not answer those types of questions. When he insisted, she stopped the interview, got up, left his office, and never went back. The ward (home) teachers, still visited our home each month, but she frequently told them that she would not return to the church, until women hold the priesthood.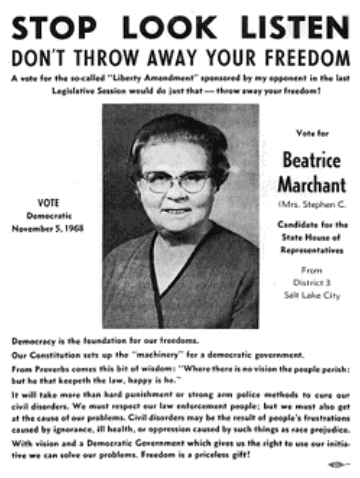 In the fall of 1968, my grandmother asked for help delivering campaign leaflets around her legislative district. She had fifteen children, which meant that I had over 100 cousins. Several of the cousins fanned out across her district to drop a leaflet at every door. After winning her seat, my mother became her legislative assistant, and several times I was able to watch my grandmother on the floor of the Utah House of Representatives. I felt a great deal of pride seeing my very smart and courageous grandmother do battle against with the John Birch Society and other right wingers in the state legislature.
After she left the legislature and shifter her focus to the ratification of the Equal Rights Amendment, some conservative church members would attack both her political stand, and question her worthiness as a member of the church. Despite these attacks, she carried on as the Relief Society President in the Liberty Ward, serving the many poor and elderly women living in that Salt Lake inner-city neighborhood.
Both my mother and grandmother were educators. My mother taught home economics, and later became a vice principal, district policy advisor, and member of the Utah Board of Regents. She lived what she preached, and was always learning new things. When personal computers came out in the 1980s, we both jumped into the new technology, and it became one of our shared interests. We spent hours and hours talking about computers. These types of exchanges were not limited to computers. Whatever my interests were, my mother could engage in meaningful, interesting, intelligent conversations.
She passed away one night in November 2006. A decade has gone by since that night, and I still miss our conversations. I miss her strength, I miss her intelligence, and I miss her love. My mother and grandmother taught me by their examples that women can be strong, capable leaders, who make the world a better place. Despite growing up in a patriarchal culture, their examples showed me that male superiority is lie. It is because of them that I am a feminist, and it is their memory that drives me to fight for equality in the Church.
Ready for Revelation
---
Mark Barnes, the author of this post, is on Ordain Women's Executive Board