On March 17, 2013 the Ordain Women website launched to no fanfare that I am aware of. That evening, I was quietly sitting at my computer when someone posted on a feminist Mormon Facebook group I belonged to. It was a link to the website www.ordainwomen.org and the post simply said, "Have you seen this?!?!" I clicked on the link and when I read the words "I believe women should be ordained" I felt my heart leap. This was the answer to my years of prayer!
I spent the night reading every profile. I read the instructions for how to submit a profile. Then I prayed. I prayed to my Heavenly Father that I would know if this was what I had been waiting for. Was this the promised answer I was told would come? I was terrified at the thought of publicly acknowledging my desire to be ordained, but I knew, immediately, that this was something I had to do. I spoke to my husband—with tears in my eyes I told him that, though it might cause me trouble, the Spirit was telling me it was time—and he gave me his full support.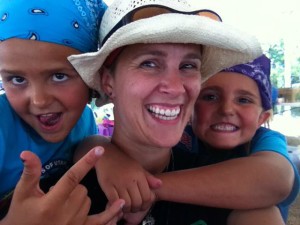 It has been three years since I saw that website. And tomorrow, it will be three years since I submitted my own profile. It did not come without a cost, but I believe this is where my Heavenly Parents have guided me.  It has changed me, changed my life, and changed my faith community.
I am incredibly proud of the work we have done. Since 2013, we have seen more than 600 individuals share their profiles. We have been joined, in body or in spirit, by thousands of people at actions around the world. We have been a part of the conversation around women and their role in the Church of Jesus Christ of Latter-day Saints. And that conversation will continue. It fits the model of revelation given as far back as the Old Testament and it is part of the promise of the 9th Article of Faith.
Happy Birthday, Ordain Women!