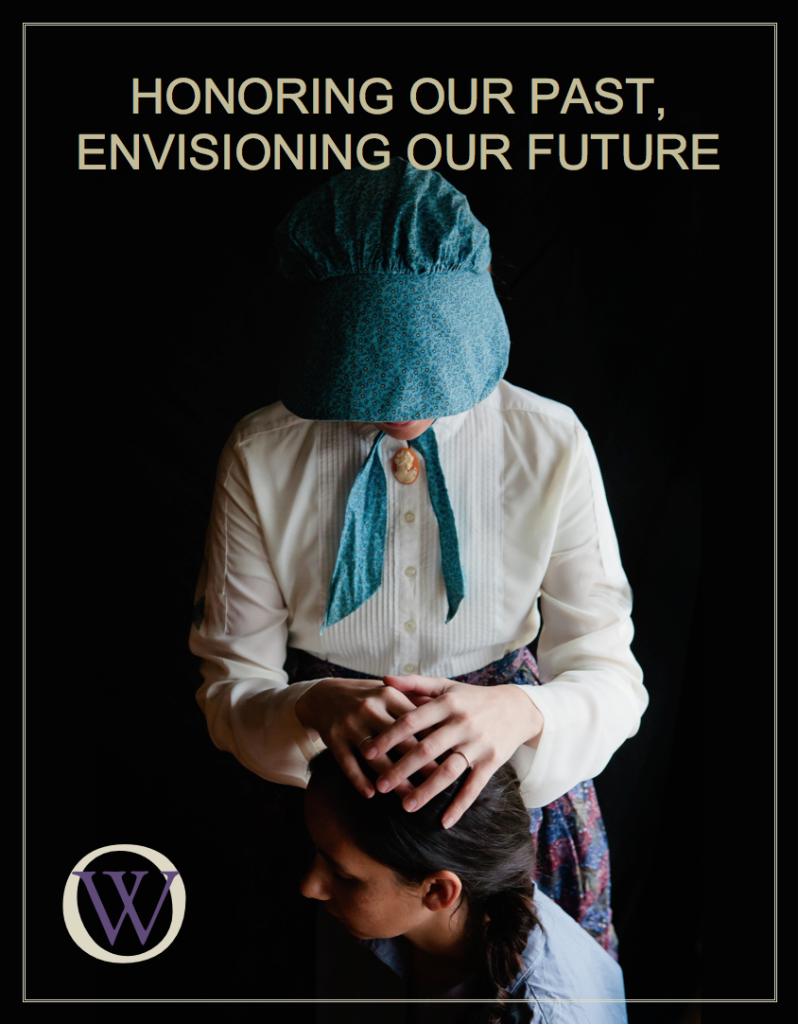 Ordain Women has chosen as our 2015 theme: "Honoring Our Past, Envisioning Our Future." This theme was inspired, in part, by the wonderful resource material in Ordain Women Conversation 2, "Know the History."
Leading off the "Know the History" conversation is a quote by Patty Bartlett Sessions. Patty was a pioneering midwife and one of the wives of Joseph Smith. In 1884, Patty said, "I felt as though I must lay hands on her. I never felt so before without being called on to do it. She said, 'Well, do it.' I knew I had been ordained to lay hands on the sick and set apart to do that. She had been washed clean and I anointed her, gave her some oil to take, and then laid hands on her. I told her she would get well if she would believe and not doubt it." Patty spoke with confidence and acted with authority.
There are a multitude of brave pioneer women like Patty in our collective past who blazed trails, both literal and figurative. Many early Mormon women were prominent leaders and innovators. In 1896, Martha Maria Hughes Cannon, a physician and prominent Mormon suffragist, beat her own husband on the same ballot in Utah to become the first-ever female state senator in the United States of America. Emmeline B. Wells was President of the Relief Society from 1910 to 1921 and editor of the early feminist publication the Woman's Exponent. Jane Elizabeth Manning James was the first African-American woman to enter Utah as a pioneer, and she repeatedly petitioned the First Presidency of the Church for more equal treatment and the sealing she was promised by Emma Smith. The early Church was a place for bold, talented, faith-driven women.
In the "Utah Woman Suffrage Songbook" from 1871, there is a song called, "Woman, Arise," which is sung to the tune of the LDS hymn "Hope of Israel." The first verse and chorus are inspiring:
Freedom's daughter, rouse from slumber;

See, the curtains are withdrawn

Which so long they mind hath shrouded;

Lo! Thy day begins to dawn.

Woman, 'rise, thy penance o'er,

Sit thou in the dust no more;

Seize the scepter, hold the van,

Equal with thy brother, man.
Imagine a group of hundreds of Mormon women in bonnets and petticoats singing those inspiring words. What a joyous chorus that would be!
We marked many milestones for Mormon women in 2014. In March, the Church held the first Springtime General Women's Meeting for women and young girls, thus creating a meeting for women twice per year. On September 27, Sister Dorah Mkhabela, from South Africa, was the first Black woman ever to pray in an LDS General Conference. In October, for the first time, the Church made the Women's Meeting an official part of General Conference.
Other faith traditions also made great strides towards equality this past year. In October, Seventh-day Adventists agreed to vote on women's ordination in 2015. In November, the Church of England, which has 27 million baptized members, overwhelmingly voted to allow women bishops. This decision reversed centuries of tradition that excluded women from this office.
Our past as well as these steps toward greater inclusion and equality should be celebrated. However, at Ordain Women, we feel confident that the "golden age" for women in the LDS Church does not lie in the past, but in the future. We think that, as women, we control the destiny of women in the Church. We can be inspired by the past to envision a future where our daughters are equals with our sons.
In 2015, Ordain Women will focus on more fully understanding our history and the women upon whose broad and brave shoulders we stand today. We will use the lessons from those who came before us to help us imagine a brighter, more inclusive future for ourselves and for the Church. We will be learning to follow the example of pioneer midwife Patty Sessions, becoming midwives to our own liberation.