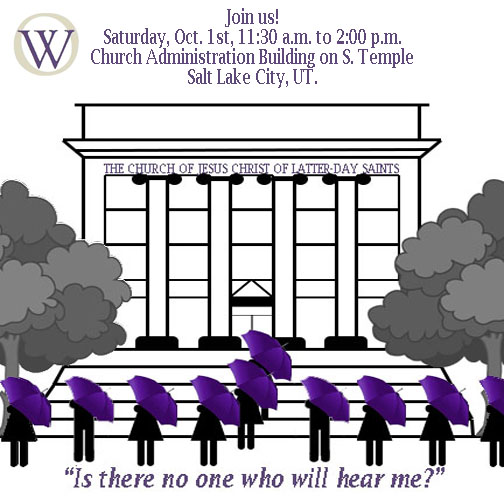 When Ordain Women first launched, I was overjoyed for my Mormon sisters. I had heard their pain and confusion about being excluded from exercising offices and rituals of the priesthood (and holding most of the administrative offices of the church) for years. In their most quiet moments of prayer, they felt that their Heavenly Parents didn't have any prohibition on women holding these offices or special dispensations to serve. They sincerely wanted their leaders to ask for divine guidance and answers – and there are no official channels to have their request heard.
But I hung back from joining the movement. I was no longer a believer or member of the church. I thought that my official support would only hurt their cause because this is a movement for and by believers.
Two years later, I learned I was wrong. My sisters told me my voice was needed. My official support was more than welcome – it was vital. And now, one year later, I will be standing with them in Salt Lake City; asking for 15 men (or their representatives) to hear my sisters' request to have a conversation about the ordination of women. To hear their request to pray about one of the deepest desires of their hearts.
Here's the thing. This will be scary for me. I will walk up to the Church Administration office to request a meeting when it's my turn. All alone. I will most likely be turned away, or not allowed to walk up the steps at all. But I have to try.
I will try for my nieces being raised in this church. For my hundreds of friends and family members who will always remain active, believing Mormons, no matter the questions and pains that reside in their heart over this issue. For my Mormon female polygamous ancestors who blessed the sick and blessed women before they delivered babies. For women everywhere who are shut out of positions of equal opportunities to serve and equal access to administrative decision-making power in one of their most important communities: their religions.
If you have any sympathy for women having an equal voice in religion, I ask you to stand with me in Salt Lake City on October 1st. I know that for many of you, you won't be able to stand with me physically. But you CAN stand with me through the beautiful Mormon tradition of proxy work. I can have your name in my pocket.
We Mormons love recording and cherishing names. The names of our ancestors, the prophets and leaders, the local members of each ward and stake. Each list is meticulously maintained and, by many, lovingly honored through special rituals and ceremonies that claim each person as part of the Mormon tradition by proxy. (Apologies to those whose names were used inappropriately at times, like Holocaust victims and members of other faiths. That should never happen.)
Send me your name, and I will print it out and put it in my pocket before I stand with my Mormon sisters and other allies on October 1st. It will give me more courage and support than you know. You don't have to be a Mormon, you don't have to be a believer, you don't have to be a woman, you don't even have to know me personally. I will hold your name and be so grateful for your support.
I want my pockets full to bursting. I want to know that when I walk up those steps, I have hundreds and thousands of people with me, lending their voice to mine. I will feel your hearts and your kindness. I will be asking for a meeting in your name, as well as mine. And your voice will be counted as fully participating in the Ordain Women action. If you wish to remain anonymous, you can submit just your first name or initials. But you will be counted as one of the souls petitioning the leaders of the LDS church to discuss the issue of the ordination of women.
And if that doesn't interest you in and of itself, will you submit your name for my sake? I need you. My sisters need you. Follow this link to submit your name or initials.