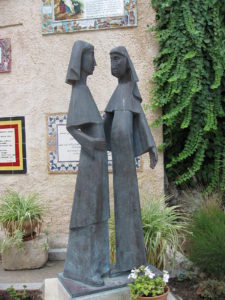 One of the stories about the birth of Jesus Christ that has always struck a responsive chord in me is Mary's visit to Elizabeth.  I have always loved learning and reading about Mary and, for that reason, the Gospel of St. Luke, with its emphasis on and attention to Mary, has always been my favorite gospel.
The story of Mary's visit to Elizabeth is found in Luke 1:39-56 and, in some versions of the Holy Bible, the story is entitled "Mary Visits Elizabeth."  Our siblings in the Catholic Church, the Eastern Orthodox Church, and in the Syriac Christian Church celebrate the events recounted in the story as the feast of the Visitation.
The basic premise of the story is that Mary, after been visited by the Angel Gabriel and told that she will be the mother of Jesus Christ and that her old(er) and heretofore barren kinswoman, Elizabeth, is pregnant, decides to go visit Elizabeth.  She makes this decision even though she and Elizabeth are separated by a considerable distance.  When she arrives, she and Elizabeth forge a connection that blesses and inspires both them.  That connection is even acknowledged by Elizabeth's unborn child in her womb who "leaps for joy."
When I was younger, the message I took from Mary's decision was that, having learned that she had been chosen and selected by God to bring the Son of God into the world and having accepted that task, Mary felt the need to talk to someone who could recognize, understand, and empathize with feelings and emotions she was experiencing.  I imagined her thinking that there could be no better choice than her kinswoman, Elizabeth, who because of her own unexpected pregnancy, was experiencing many of the same emotions and feelings.  That message served as a comfort and a guide through my adolescent, teenage, young adult, and mature woman years as I found that, time after time, connecting with someone else who was traveling a similar path provided strength and comfort to both of us.
Each time I heard or read the story of Mary's visit to Elizabeth, I learned another lesson.  I learned the importance of stepping outside of my own circumstances, whether joyous or grievous and opening my heart and mind to the circumstances of another.  I learned the importance of following the promptings of my heart and my spirit and reaching out to and caring for others.  I also learned (and it many ways it was my hardest lesson) to allow others to reach out and care for me.
I still cherish the lessons that I learned from Mary's visit to Elizabeth and, with each passing day, I find new applications for those lessons.  I have had particular need for them during this past year as I have too often allowed myself to feel that no one understood my journey or my struggles or, even worse, that my journey and my struggles were in vain.  However, time and time, in the midst of my feelings of despair, I was able to forge (or rekindle) a connection with someone who did understand–someone who needed me and who needed to be there for me.
So, as we come to the end of another year of praying, yearning, and working for the gift of equality in faith, let us take time to remember the kinships and friendships that have given us comfort and courage.  Let us make it our mutual goal to honor those kinships and friendships and to forge new ones.  As we do so, I urge us to forge kinships and friendships–ones that cross all the lines and barriers that society and (if we are honest) we place between us.  By doing so, we will enrich our lives, encourage each other, and (greatly) enhance our chances of achieving our goal of equality in faith.