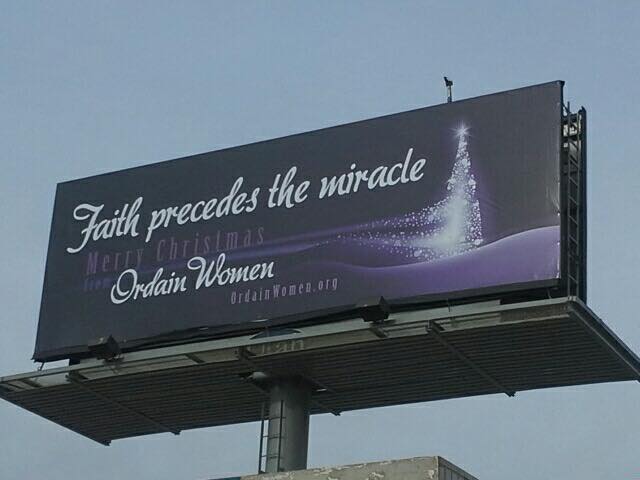 As we move into the holiday season, we at Ordain Women wish to share a message of faith and good will. As part of this effort, we are happy to announce that we secured a billboard in Salt Lake City. It reads: "Faith precedes the miracle. Merry Christmas from Ordain Women." It is our sincere desire that the billboard, located at 1655 N. Beck Street, will inspire all who see it.

We chose to create a billboard in order to spread the spirit of the Christmas season and the message of hope that came with the arrival of our Savior Jesus Christ. We find inspiration and comfort in the scriptural accounts of those who anxiously and faithfully awaited Jesus's birth, and we rejoice in His earthly ministry. We believe that faith, indeed, precedes miracles.

We are incredibly grateful to all of those who helped make this effort possible. The campaign to fund the billboard received more than $3,000 in a less than a day. To date, over 150 donors have contributed funds now totaling $6,000. As each donation came in—regardless of the amount—our hearts and spirits were buoyed. We thank all of you for your generosity and support, and we pray that the miracles of this season will be yours.