I have always loved walking around Temple Square. When I was a teenager I looked forward to the mutual activity when we would all go see the lights at Christmas (I pretended I was walking around with my future husband, New Kid on the Block Joe McIntyre, just after his baptism.). It was all very romantic… but I digress. As I grew older, I attended every Sunday morning session of General Conference: I loved to sit on the lawn outside the Tabernacle, rain or shine, and listen to the talks over the speakers. I remember being so excited when I was able to stand outside and watch from the doorway as President Howard W. Hunter spoke. It still gives me butterflies to think of the Spirit I felt. I was married in the Salt Lake Temple and have countless photos of my new husband around Temple Square. I have taken multiple trips with my children to this sacred place, and even my Girl Scout troop.
Today, as an adult, I visited Temple Square, once more. This time I carried three envelopes in my hand and walked with purpose to the Joseph Smith Building, the LDS Temple Square Events Office and the Ticket Office at the Conference Center. Each envelope contained a letter addressed to the Events Director, requesting 150 tickets for the Priesthood Session of General Conference on October 5, 2013. These tickets are for the nearly 200 women who have signed up to attend the session—an act that will be taken by some to be disrespectful, but is meant only to demonstrate our love of the priesthood and honest desire for ordination.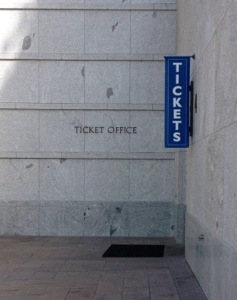 The walk was quiet and lovely. The sun was shining and the grounds were immaculate. Not surprisingly, at each destination I encountered friendly, smiling faces. LDS Church employees and missionaries were helpful and happy to answer my questions. When the person I was seeking was not available, they cheerfully took the letter with a promise to deliver it to the right person. As I felt the power of this place I was once again reminded of why I love the gospel and its people. The true love of Christ and spirit of service permeated. And I was happy.
Now, though, I am full of excitement as we await the reply. I selfishly used my own address, so I will be the first to know if we do indeed get the tickets. I am anxious to know if the leaders of our church will welcome my sisters and I in our aspiration to serve and attend the session. I am praying that they will, and I look forward to the session.
Here is a PDF of the ticket request letters.