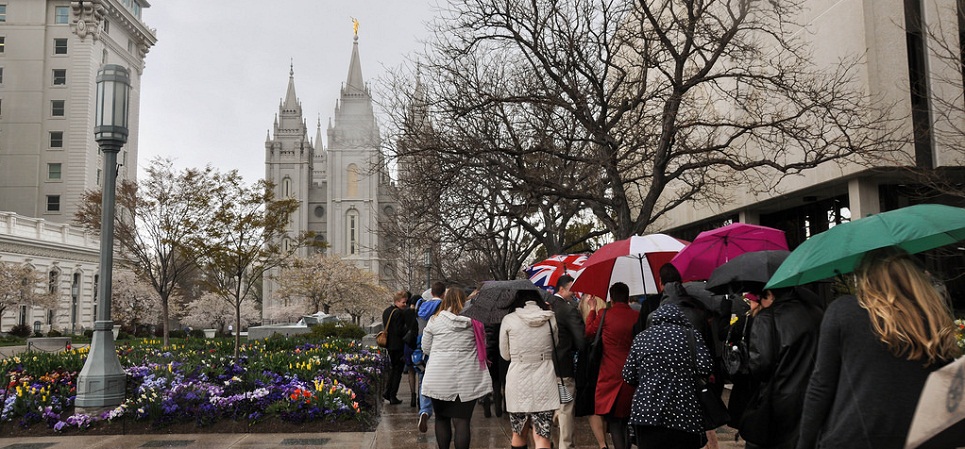 "What about women?" Salt Lake Tribune reporter Peggy Fletcher Stack pressed newly-installed LDS President Russell M. Nelson during last week's press conference, convened to announce the reorganization of the all male, all white First Presidency and Quorum of the Twelve leadership. "I love 'em," President Nelson quipped—this after the new First Presidency either ignored or forgot that Stack originally asked a two-part question about ways they might address the lack of racial and gender inclusiveness among the LDS hierarchy.
With all due respect, President Nelson, many women in the Church are weary of mere assertions that they are loved. They want evidence of it.
"The new First Presidency does not understand how those of us who are not white, not male, not old, not heterosexual, and not from the United States long for a face and a voice that represents us," Bryndis Roberts, chair of the Ordain Women Executive Board, told the Salt Lake Tribune in response. "To say [as they did] that the representation occurs at the local leadership level ignores the reality that many of the concerns members have and the changes members seek cannot be addressed at the local level. As such, it is imperative that all levels of church leadership reflect the diversity of the church."
In addition, said Roberts, "it was painful to hear my value as a woman be limited [by them] to my ability to bear [and influence] children and the terminology [Nelson used to assure us that one day there would be] 'more flavors in the mix' did not capture the gravity and importance of the issues of diversity and gender equity."
Roberts was not alone.
Exponent II blogger Aly wrote: "[My daughters] deserve better than a pedestalizing response that limits their influence to submissive and supporting roles. … [They] deserve better than to be dismissively told that labels like gender and race don't matter by a man who has actively used his power to draw and enforce boundaries around those same categorizations."
Perhaps this would be a good time to remind the new administration that Mormon women have published several lists of suggested policy changes that would foster a more inclusive, equitable religious community. Reviewing and implementing those changes, some of which are summarized below, would go a long way toward demonstrating that their love for women includes taking them seriously and recognizing their full humanity.
First and foremost, thoughtfully consider and earnestly pray about the question of women's ordination and their full integration into the decision-making structure of the Church. In the interim:
Encourage partnership in marriage and eliminate the idea that husbands preside over their wives.
Create parity in the Young Women and Young Men organizations through equivalent budgets, educational programs (leadership, career, and spiritual training,) and activities (sports, service, and outdoor events).
Balance the stories and images of boys and men in church publications, talks, and other media with stories and images of girls and women.
Invite women in Church leadership positions to speak and pray during General Conference in numbers equal to the participation of men.
Encourage leaders to use gender-inclusive language whenever possible.
Recognize that girls and boys, women and men are equally responsible for appropriate sexual behavior, and avoid reducing morality to sexuality, and modesty to a preoccupation with women's and girls' clothing.
Instruct bishops to refrain from asking Church members probing questions about sexual practices and experiences.
Call women to perform pastoral counseling, particularly for women and girls who have been sexually abused.
Choose a General Relief Society Presidency and General Board that reflect the diversity of viewpoint and circumstance in the Church, and establish frequent meetings between the First Presidency and the General Relief Society Presidency.
Include the Stake Relief Society President in Stake Presidency meetings, and appoint women to meet with the High Council.
Delegate more expansive supervisory authority to the Stake and Ward Relief Society, Young Women, and Primary presidencies, including approval of personnel, programs, and activities.
Include women among stake and ward leaders who hear evidence and offer judgment in Church disciplinary councils.
Include the local Relief Society president in all bishopric meetings, and rotate the planning of Sacrament services among the Relief Society president and members of the bishopric.
Examine all Church positions to determine whether they can be filled without regard to gender.
Appoint women as presidents of Church universities and heads of administrative departments.
Expand hiring practices in the Seminaries and Institutes of Religion and within the religion departments at Church universities to provide women the same placement, advancement, and tenure opportunities as men.
Call young women as well as young men to serve missions at the same age and for the same length of time, and afford women the same opportunity as men to function as district leaders, zone leaders, and assistants to the president.
Lift the prohibition on women's participation in the blessing of their children.
Change temple marriage policies so that men and women have equal opportunity to be sealed to their second spouses after they are widowed or divorced.
Consider further wording changes to temple ceremonies and ordinances such that both men and women make the same covenants and enjoy the same promises.
Recognize women as witnesses for baptisms and marriage sealings.
Restore the former institutionally-accepted practice of women giving blessings of healing and comfort.