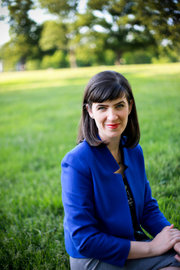 Kate Kelly, a founder of Ordain Women, is interviewed and featured in the New York Times this week for hearing from local Church leaders that she is summoned for a disciplinary council.   John Dehlin, a psychologist and founder of Mormon Stories, who is also a supporter of Ordain Women, has also been summoned.   Read John's profile here.  
Lauri Goodstein, co-author of the March New York Times article highlighting Ordain Women, reported  on June 11:
"I'm just really, really, really heartbroken," Ms. Kelly said.
She said she told the stake president and bishop, "What you're asking me to do is to live inauthentically, and that's not something I'm willing to do."
Read the full article here.