Today's Sunday Spotlight comes from Hannah! She so eloquently expresses how silence can equal agreement and the need to take a stand and voice your opinion, even when you may be in the minority!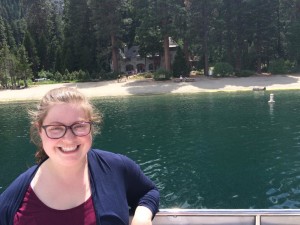 What gives you hope for the future?
The small changes I see, like the inclusion of women in planning sacrament meetings give me some hope. But mostly what gives me hope is I see more and more people seeing the problems with the way we treat women in the church.
Tell us more about your connection to Mormonism?
I was born (of goodly parents!) into Mormonism, and was raised in a fairly progressive family. We were Sunstone Mormons if you know what I mean. I felt a lot of angst in my adolescence and young adult years trying to reconcile my testimony and love of the church with attitudes and policies that I felt were oppressive and wrong.
What was your favorite calling?
My favorite callings are working with the young women and teaching relief society.
What are some of the things you love about the Church?
I love Mormons. I love the community, and the goodness and the commitment that you find from church members. I love the teachings of Christ, of the atonement, and I love the concept of Heavenly Mother.
What prompted you to put up your profile?
When Ordain Women launched back in 2013, I was quietly excited. I strongly believed in the need for women's ordination, but I didn't feel especially called to the priesthood myself. I was excited that people were fighting for this, but I didn't really feel like it was my fight. That changed in March 2014 when I read the response to OW's request for tickets to the priesthood session from the Church PR department. Two sections really stood out to me. The first was:
"Women in the Church, by a very large majority, do not share your advocacy for priesthood ordination for women and consider that position to be extreme."
The second was:
"Your organization has again publicized its intention to demonstrate on Temple Square during the April 5 priesthood session. Activist events like this detract from the sacred environment of Temple Square and the spirit of harmony sought at General Conference. Please reconsider. If you feel you must come and demonstrate, we ask that you do so in free speech zones adjacent to Temple Square, which have long been established for those wishing to voice differing viewpoints. They can be found on the attached map. As fellow Latter-day Saints and friends of the Church, we invite you to help us maintain the peaceful environment of Temple Square and ask that you please follow these details in your continued planning. In addition, consistent with long-standing policy, news media cameras will not be allowed on Temple Square during General Conference."
Those two quotes hit me in the gut. The first was so dismissive and shaming, and on top of that, who cares if most of the church thinks the position is extreme? Just because an opinion is a majority one doesn't mean that it's the right one. The thing that really got me is that I knew that I was implicitly being included in that majority, simply because I hadn't spoken up about what I really believed. I didn't want to be included in "the very large majority", because I believed (and still believe) that they are wrong. That is what prompted me to write my profile.
The second quote is what prompted me to attend the priesthood action at temple square. Requesting, that faithful members of the church stand outside with the people who come every year to taunt, to yell to hate, was a slap in the face. It is not ok to say that women don't want the priesthood, and then when a group of women prepares to demonstrate that they want the priesthood, tell them please don't demonstrate that.
What has been the reaction of your ward/ family/friends?
My family and friends have been really great for the most part. I have a lot of extended family who don't agree with me, but they are really respectful for the most part. We don't really talk about it much, although I would be happy to have more of a dialogue with them about my beliefs, I also don't want to make them uncomfortable. Interestingly, I've gotten lots of messages from family and friends who aren't Mormon, who are really supportive. It's been really cool to see how much people who aren't connected to the church are invested in this, and are watching to see what happens.
My ward has been pretty cool with my involvement. Although, last year when I was teaching a lesson on the priesthood to the young women a bishopric member spontaneously showed up to listen in. (I managed not to corrupt the youth, and all was well.) When my profile went up I was in the Young Women's presidency. A few months later I had a baby, and went on a little hiatus. (My baby was born the week after Kate Kelly was excommunicated, which provided a convenient opportunity to step away from church for a bit.) While I was on my maternity leave the Young Women's president called me and we ended up talking about my involvement with Ordain Women, and she told me she was cool with it, but to please not talk about it with the young women at all because she thought that was inappropriate. I totally get where she was coming from, and she was very nice and respectful about it. Ultimately I decided to resign that calling. I am just not in a place anymore where I am willing to censure myself about women and the priesthood. I don't really think it's a fair request.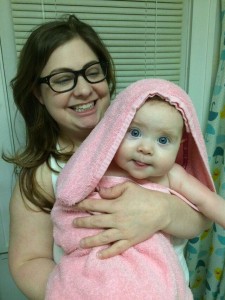 Have you had the opportunity to attend any actions? How did they effect/change you?
The priesthood action in April 2014 came with very bad timing for me. I was six months pregnant at the time, and I have rheumatoid arthritis that makes it difficult to stand for long periods. I live in Cleveland, Ohio, and I couldn't afford a ticket for a one day trip to Salt Lake City. But I knew that I needed to be there. I received funding to help cover the cost of my trip, and the ticket was booked. April Young Bennett loaned me a wheelchair so that I would be able to make the trip from City Creek Park to Temple Square, and then wait in that line of 500 people.
I remember that before we left the park, we sang a hymn, and I was filled with such peace. There was so much love in that group. I felt surrounded by the spirit. Two dear friends of mine were with me, and pushed my wheelchair in the rain and hail I carried names in my pocket of people who wanted to attend but couldn't, including my father and my sister.
When it was my turn at the doors to the tabernacle, I said what I came to say. That I wanted to go in, that I wanted to listen to the words of the prophet, that I wanted women to be able to fully participate in our church, that I wanted my daughter to be born into a faith where she was valued as much as any man.  Like all the women before me, I was turned away. And it was sad, but knowing I had put my own face and name out there to say what I truly believe took the sting away. I left that day feeling energized and hopeful.
That all came crashing down when I read the statement released by the church PR department. The way they characterized the event was totally untrue. The part that particularly galled me was the statement that we would not leave when asked. Maintaining respect and reverence was important to us, and the plan was to leave immediately if asked. We were never asked to leave. At least, not that I heard or saw. In fact, they had a little area roped off for us to wait in line, which seems like an odd step to take if you are planning to ask people to leave.
I spent the next day quietly sobbing in the Dallas airport while I listened to general conference on my phone. It was hard to reconcile the messages of love and truth with the hurtful and dishonest treatment I had just received. It's still hard to reconcile that.
I haven't attended church regularly for about a year now. I really felt the need to step away and get some perspective. I have lost a lot of trust in the leadership of our church in the last two years. I don't expect perfection from the prophet or the apostles. They are just human beings, like all of us. I think they love the church members a lot. But while I don't expect perfection, I do expect accountability and transparency, and I think those two thinks are sorely lacking.
Although I'm not currently attending church, I consider myself fully, actively Mormon. This is my church, and I still love it. I may have lost trust, but I still have a lot of hope. I truly believe that Mormon Women should and will someday be ordained.