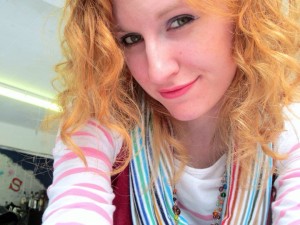 Today's spotlight comes from Sara, who opens up and so eloquently describes her love for The Church of Jesus Christ of Latter-Day Saints, her testimony of the Priesthood and her confidence in her relationship with God.
What gives you hope for the future
I try to simply have faith in God's love for each one of us. The Spirit has confirmed and testified of that love to me so strongly in my life, and based on that, I have tremendous hope that, in the eternities, we will have an incredible amount of peace, potential, and unity. We will be with God again. The words of the hymn, "All Now Mysterious Shall Be Bright At Last" has a view of the eternities that gives me hope.
Aside from ordination, what are some changes you would like to see implemented immediately in the Church?
I would love for the membership of the church to embrace the gifts of the spirit more fully. The scriptures say nothing about these gifts being separated by gender, and yet we so often talk and think as though priesthood holders are the only ones who can give blessings by the laying on of hands. I just don't see any doctrinal foundation for that view, and I think it would be so incredibly spiritual and strengthening for women (and non-ordained men) to know that they could bless those around them — their children, their friends, their siblings, their spouses — simply through faith. What a beautiful way to invite the Spirit into our homes and our lives.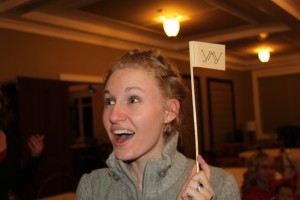 Tell us more about your connection to Mormonism?
My family has been part of the church for many generations, tracing back to the church's founding days in the United States and to many powerful conversion experiences in Scotland, Sweden, Switzerland, and England. I grew up in an active Mormon family and have many cherished memories of church activities, from Primary classes through the present day. I think my testimony got its start at my first year of Girls' Camp, and ever since then, that testimony and my church life have been very important to me.
What was your favorite calling?
I generally enjoy teaching and have had some great opportunities to teach in my callings, but I think my favorite calling overall was that of Nursery Leader (which I guess is technically a teaching calling, but our lessons usually lasted two minutes or less). I was 20 years old and living in my parent's ward between school semesters, and I think I lucked into the most hilarious and sweet group of kids ever. That was a wonderful calling.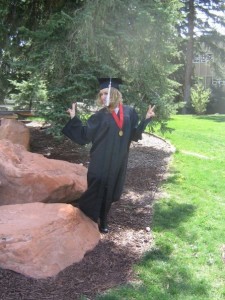 What are some of the things you love about the Church?
I love the church's emphasis on family, on a personal connection with Christ, and on the Holy Ghost. I love testimony meeting. I love the chance to bond with my Relief Society sisters. I love the notion of all of us being God's children, and I believe that with all my heart — that we are brothers and sisters, children of Heavenly Parents, with enormous responsibilities and worth. I love the fact that we have to rely on volunteer work in all of our callings and church activities, as much as that may be inconvenient or disappointing at times — it gives such opportunities for growth, charity, and forgiveness. I love the hymns and the annual Primary Program. Most of all, I love the beautiful, confusing contradictions — the challenge to find balance and focus on what's truly important. The Church of Jesus Christ of Latter-day Saints is a wonderful place to come to know God and learn some of life's most valuable lessons.
What prompted you to put up your Ordain Women profile?
I was prompted by the Spirit to publicly express my desire for women's ordination through an Ordain Women profile. I had been thinking about the subject for many months, but my feelings were always changing, and to be honest, I didn't have a testimony of the priesthood at that time. I knew that if I were going to support women's ordination, it needed to be grounded in a true spiritual desire for the priesthood, not in any sort of intellectual or strategic reasons. That just wouldn't have been right for me. But I felt no special need to make a stand on the issue, one way or the other; I just tried to be open to whatever God wanted to tell me. I was feeding my baby some applesauce one day and it felt like this rush of wind came from out of nowhere. I suddenly had this thorough belief that the priesthood — though complicated and hard to understand in many ways — was really from God, and united with that witness was the feeling that the desire for women to be ordained was a righteous desire and something I shouldn't feel any shame about, that in fact, I should be vocal about it. I wrote and submitted my profile just a few days later and I checked in with God frequently to make sure I was doing the right thing. I felt very peaceful about it and to this day have continued to feel that same peace that comes from knowing that I'm following God's will for me.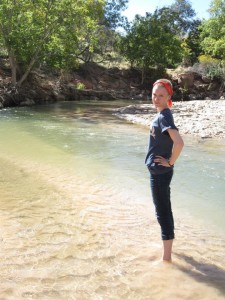 Have you had the opportunity to attend any actions?
I attended the second priesthood session action, in April of 2014. It's hard to say how it affected or changed me; I suppose I feel like it was just one day in a very long string of days, and any single experience isn't necessarily that important until it's connected with the rest. I remember feeling that day like it was crucial that I have an inner confidence in my relationship with God. Nothing dramatic happened (aside from a sudden hailstorm!), and when all was said and done, I simply waited in a line with a bunch of other people in order to ask a question I already knew the answer to. I didn't feel hopeful that we'd be allowed to watch priesthood session in person. But I still felt it was important and right that I be there, with my brothers and sisters, contributing my voice and my body and my faith. I walked home from Temple Square and watched the rest of the priesthood session in my living room. It was a quiet and purifying day for me. It was an important step in learning to care more what God wanted of me than what others thought of me.