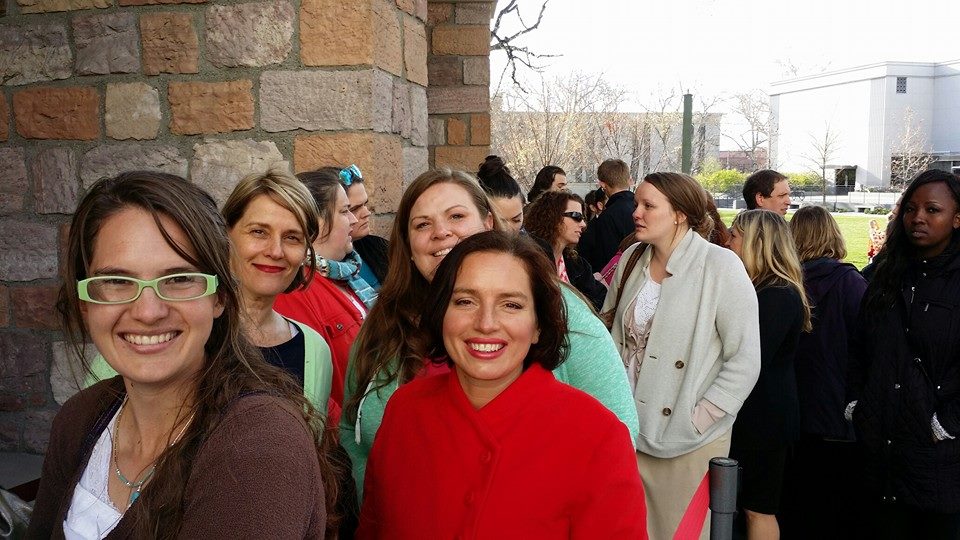 On March 17, 2013, I sat at my computer anxiously reading 26 essays written by 26 people, each of whom expressed a sincere desire to see women ordained to the priesthood in the Church of Jesus Christ of Latter-day Saints. I took in every word, analyzing each for any sign that these were people I could stand next to, people who truly, faithfully felt the same call I did. I scanned the faces: women and men on their wedding days, holding their children, playing the violin, reading. With each new face, each new profile, I felt the Spirit telling me that this was my time to finally declare, "I believe that women should be ordained."
I say it now: "I believe that women should be ordained." And I share that message through my activities with Ordain Women. As Chair of the Executive Board of Ordain Women, I work with eight men and women, each of whom came to Ordain Women at different times and through different paths. These men and women are smart and passionate and just lovely. We work together to establish long-term strategy and craft communication items. We spend hours together on conference calls and individually in contemplation. We have fierce debates and prayerful moments.
Beyond the men and women of the Ordain Women Executive Board, we have many incredible volunteers who serve on committees that help plan events, write and edit social media content, and organize the hundreds of volunteers. When I think of Ordain Women, I see the faces of these volunteers.
I am proud to call Kate Kelly a friend and colleague today. I like her, I respect her, and I work side-by-side with her at Ordain Women. But I can honestly say the day I submitted my profile I had no idea who Kate Kelly was. Her profile was one of the 26, listed in no apparent order and so given no prominence. I came to Ordain Women because of the feeling I had while reading the various profiles. I came here to share my story and my beliefs and my desires as one of many. This is a movement of hundreds of people, supported by thousands more, and working for the future of countless women and girls. They are the face of Ordain Women. The face of Ordain Women is me.
Honoring our past,
Envisioning our future. 
---
Debra Jenson, the author of this post, is on the Executive Board of Ordain Women and the 2015 Ordain Women Chairperson.