We all see the world from many different perspectives. For me, the perspective that drives my life forward is the spiritual perspective. My experiences over the last two weeks have once again taught me the importance of seeing through spiritual eyes as we strive for equality. On September 21, 2015, several Ordain Women supporters met in New York City to begin the Women's History Tour. Over the following week we would see the homes of Harriet Tubman, Susan B. Anthony, Elizabeth Cady Stanton, Matilda Joslyn Gage and Joseph Smith. We would see the Wesleyan Methodist Chapel, which gave birth to the Declaration of Sentiments in 1848. We would see how the Quaker belief in the spiritual equality of male and female changed the world. As Ordain Women, we would offered up our own prayers for gender equality in the Sacred Grove. Standing on holy ground, we would read the pleas of nearly two hundred Ordain Women supporters for gender equality in our own Mormon faith. A week later on October 3, 2015, as Ordain Women supporters, we again raised our voices in favor of gender equality as we walked toward Temple Square. Looking back on these moments, each time I felt the spirit moving us toward something greater future.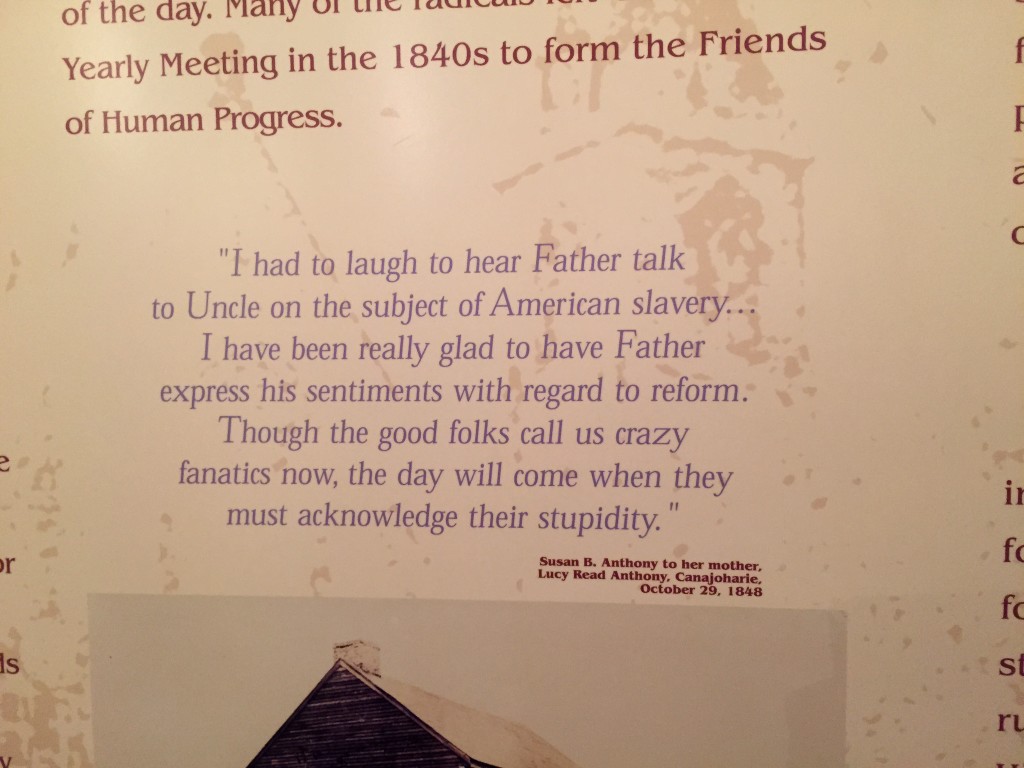 Standing in Susan B. Anthony's home in Rochester, NY, I saw these words on the wall describing Quaker beliefs. "They were known for their testimonies against war, their ethic of plainness and belief in the spiritual equality of men and women. Quakers were opposed to the use of liquor and slavery." Next to this statement was a quote from Susan B. Anthony: "I had to laugh to hear Father talk to Uncle on the subject of American slavery . . . I have been really glad to have Father express his sentiments with regard to reform. Though the good folks call us crazy fanatics now, the day will come when they must acknowledge their stupidity."
Reading these words, I felt strongly that someday the same will be said of Ordain Women's belief in spiritual equality. One day within our own religious tradition gender equality will be so thoroughly accepted, that arguments to the contrary will be considered "stupid." We have seen this before. Prior to 1978, I regularly heard members explain why people of African decent were inferior to others (e.g. the Mark of Cain, or lack of courage in the preexistence). Today, most members see claims of racial inferiority as an unfortunate, and "stupid" part of our past.
On July 19-20, 1848, three hundred men and women met at the Wesleyan Methodist Chapel in Seneca Falls, NY. Many of the participants were also abolitionist, who believed in racial equality, as well as gender equality. They created a document known as the Declaration of Sentiments. The great abolitionist Fredrick Douglas recorded this document and published it to the world. One hundred of the three hundred people present had the courage to sign their names to the Declaration of Sentiments.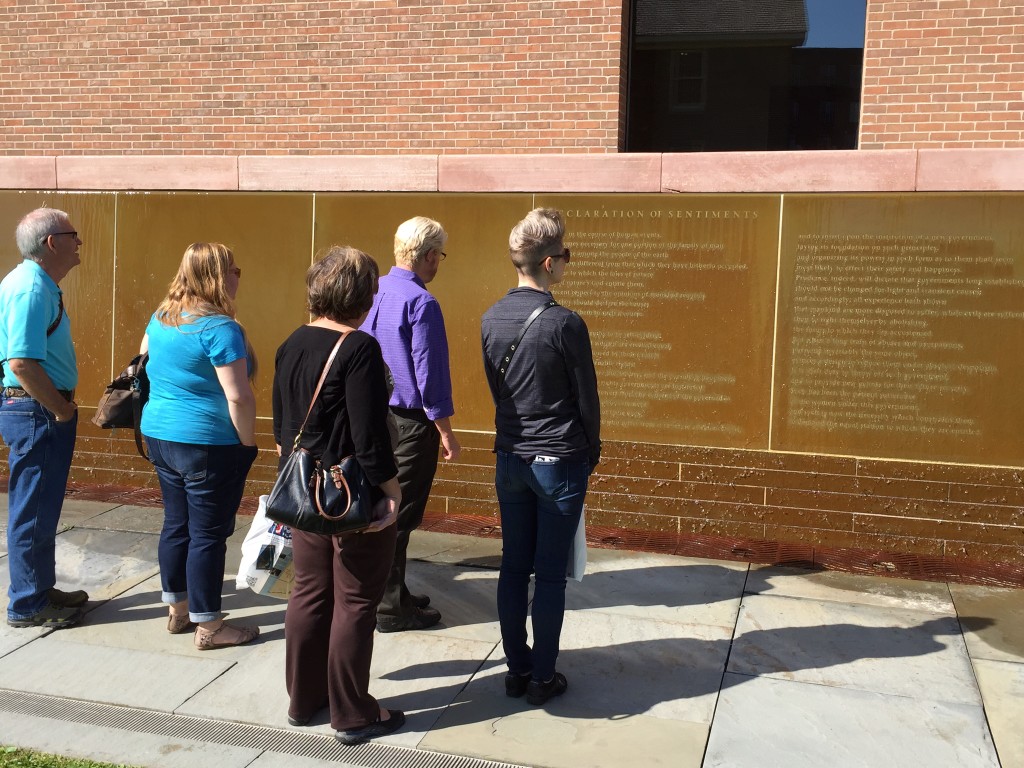 In part, these one hundred brave women and men declared: "We hold these truths to be self-evident: that all men and women are created equal; that they are endowed by their Creator with certain inalienable rights; that among these are life, liberty, and the pursuit of happiness . . . " Many of the men and women at the convention, along with others like Susan B. Anthony, who would follow later, understood that this declaration of spiritual equality was the foundation upon which legal and cultural equality could be built. As long as people believed in the spiritual inferiority of women, we would not be able to build a country that would fully embrace the equality of women in other realms of life.
Of the one hundred people who signed the Declaration of Sentiments, only one, Charlotte Woodward lived to see the passage of the 19th Amendment, which granted women the vote. For the other ninety-nine, their commitment to the spiritual equality of the sexes failed to bear fruit during their lives. For those who consecrated their entire lives to this end, like Elizabeth Cady Stanton and Susan B. Anthony, success was something beyond the limits of their own mortality.
As we walked through the homes of early feminist leaders in upstate New York and listened to the stories of their lives, I could see their lives reflected in the lives of many of the women with whom I work in Ordain Women. I have felt their deep faith in the equality of all God's children, male and female. I have seen their commitment, as they dedicate weeks, and months, and years to this work of equality. I have also seen their anguish, as they face anger and rejection from their most intimate community. But they continue, because like those of the past,  they understand that what they are doing is right.
On September 23, and October 3, 2015, we again raised our voices in support of gender equality. On September 23rd, a dozen Ordain Women supporters stood in the Sacred Grove in Palmyra, NY and one by one recorded our wishes for the future the Church, along with the wishes of almost 200 other supporters. On October 3rd, we walked from City Creek Park to Temple Square in Salt Lake City. This time through the use of living and symbolic art displays, we expressed our conviction that women must be ordained, and must take their place as full equals with their brethren in the church. As Ordain Women, we have faith in the words of Susan B. Anthony: "Failure is Impossible."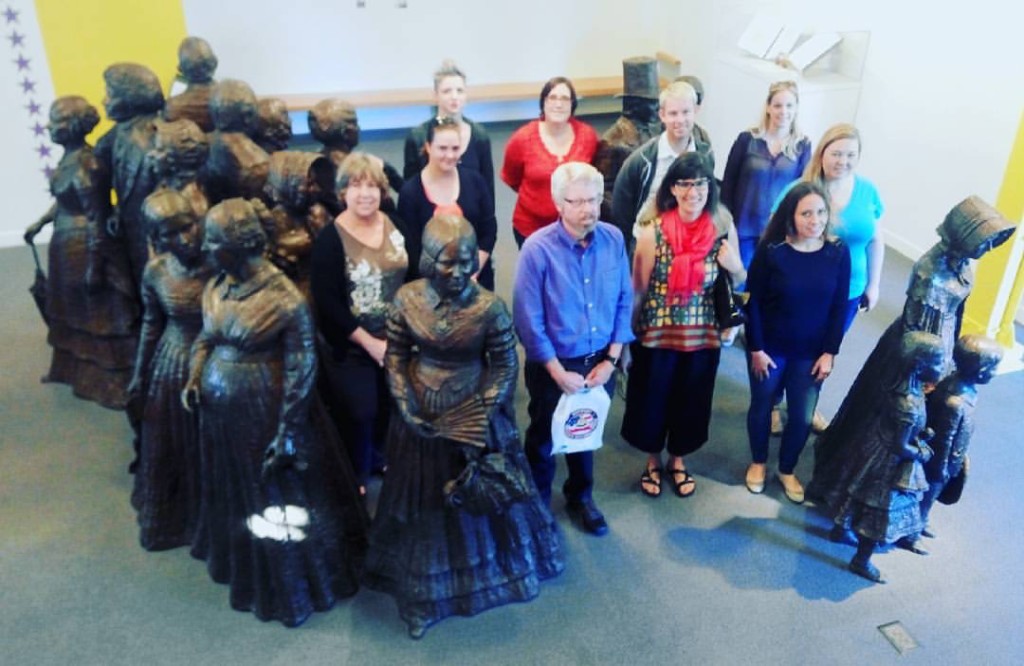 Honoring our Past,
Envisioning our Future.
---
Mark Barnes, the author of this post, is on Ordain Women's Executive Board as Male Allies Committee Chair.