Every year as Easter approaches, I find myself pondering more the life of Christ. This year, as in years past, I study the New Testament and work out how these scriptures apply to me and my discipleship. I love this process because it is where I learn about the role that women played in the life of Jesus. I learn about the women that surrounded him, the way he treated them, and—most importantly—the social mores that he dismissed.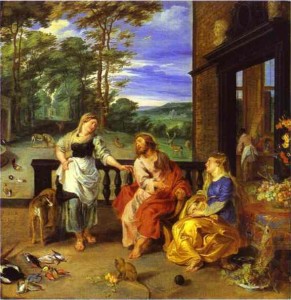 Jesus's interactions with Mary, sister of Martha, in Luke 10 are meaningful to me. Unfortunately, people often use this story to define further the role of women by exploring a false dichotomy between Martha and Mary. I think that conversation misses the most interesting and crucial point of the story. Mary sat at the feet of Jesus, and he taught her. In a time when women weren't allowed to be scholars or students, when women's voices and minds were considered sub-par and worthless, Jesus taught Mary. He believed that her understanding of the gospel was just as important and that her mind, heart and soul were just as capable, as any man. The progression of her knowledge was a part of His mission, and He didn't ignore her.
Another significant, and also overlooked, moment is in Luke 13, when Jesus heals a woman on the Sabbath. He refers to her as a Daughter of Abraham. It is the only place this phrase is used in the Bible, of course. The phrase Son of Abraham is common and often used to establish lineage and reputation, and to indicate the promise of God's blessings. At this moment, Christ speaks to the woman's worth and her right to be blessed by Him.
Then there is the pinnacle moment in the scriptures. The moment we celebra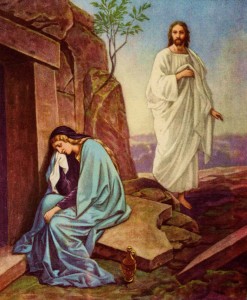 te this Sunday because it represents for us the salvation made possible through Christ. It is the moment we learn that He lives. And who is the first to hear this Good News? In John 20 we learn that it was a woman. In a culture where women would not have been called as a witness to much of anything, Mary Magdalen was chosen as the witness. He chose her to deliver the message to the others. Who can deny that Jesus has called on women to be His special witnesses? It was His first choice.
As I ponder these women, and the way Jesus addressed them and involved them, I appreciate what this means for me. I am valued and loved as an individual—not because of the role I play in society or whatever social mores I am called to live up to. Jesus has shown he doesn't care about that. What he offers me is hope and salvation apart from all that.
Happy Easter.