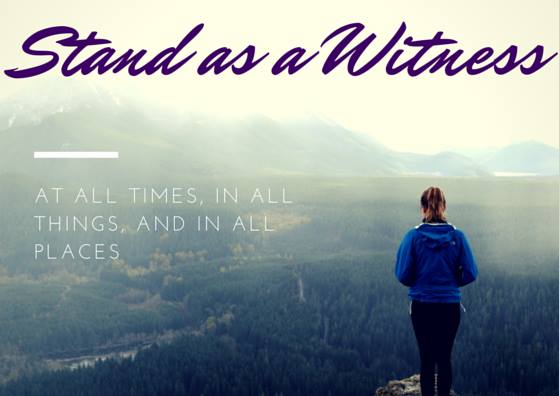 I am one of a handful of Mormons in my family, so on the day I married in the Salt Lake Temple only three of my relatives could come with me to the temple: my grandmother who was my escort and I love her forever for it, and an aunt and uncle. When I was asked who would be the witness to my wedding, I chose a woman with whom I had been close for years. She had helped me find my testimony in the gospel; I had known and trusted her for seven years. But I was gently informed that she could not witness my wedding because she was a woman. I would have to select a man.
This wasn't the first time I had bumped up against the patriarchal structure of our church. It happens often, even when we don't notice it. But it was a moment I will never forget because it meant so much to me. The people who really mattered to me—who knew me and had helped make me the woman I was—were women, and they were not allowed to do anything for me that day except hold my veil. It was especially surprising to me, considering the words of Mosiah that are quoted in the Young Women's theme, declaring that "we will stand as witnesses of God at all times and in all things, and in all places." It is a disservice and disappointment that has reappeared at baby blessings and baptisms, and these policies have broken the hearts of countless women in our church.
The policies are wrong and I am ready for that to change.
Beginning today, Ordain Women is launching a campaign called "Ready to Witness." We are inviting women to download a postcard HERE and fill out this online form and share their story.
Explain what it feels like to have your infant taken from your arms and blessed while you weep because you are not allowed to witness the moment, because policy says a woman cannot hold her baby.
Share the moment you were told that you could not act as witness to your best friend's baptism, because policy says that witnessing is a role reserved for men.
Describe the fear you feel when you imagine young women, alone in rooms with adult men asking them personal questions, and no one to sit next to them to witness and protect them, because policies dictate worthiness interviews with male leaders.
Tell of the moment you realized that your Young Women's president could not serve as the witness at your temple sealing because the Church Handbook of Instruction says that only men are acceptable witnesses.
Ask why, when women were chosen to serve as the first witnesses of the resurrected Christ, these policies are in place to keep women from serving as witnesses to these moments in our church.
Ordain Women will be tracking how many submissions our leaders receive, so once you've submitted your postcard, please share your story online with us HERE and on Friday, April 1, representatives and supporters of Ordain Women will walk to the Church Administration Building to deliver the stories we collect. We will stand at the Church Administration Building on Friday April 1, Saturday April 2, and Sunday April 3, during daylight hours, collecting more postcards and stories and waiting to deliver them on Monday April 4. We invite supporters to join us on these three days.
This is the moment to demonstrate with your words that
you are Ready to Witness
and to demonstrate with your body that
you are Ready for Revelation
that expands the roles of women to include witnessing,
as we did with our Savior.